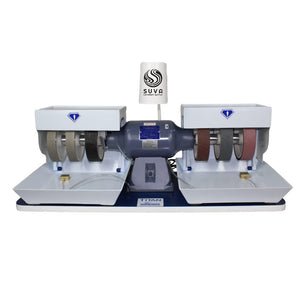 Diamond Pacific
Titan Gem Maker
Regular price
$3,555.55
Unit price
per
📦
Special order, ships direct from manufacturer with tracking emailed to you when known.
Why order your cabbing machine from SUVA?
Full manufacturer warranties apply for every machine and our always-competitive prices. We also understand the varying lead-times for a machine to ship from the manufacturer can feel like a kid during the weeks before a birthday. So every cabbing machine purchase from SUVA scores you a "starter pack" of your choice of 2 professional cabochon templates to start planning your first cabs while you wait for your machine to arrive! Add your choice of 2 single cabochon templates to your cart with this machine to apply the discount.
*US addresses only, the cost of starter pack items will be deducted from refunds if an open machine order is requested to be canceled prior to shipping.
Availability: Manufacturer estimates new Titan orders will ship with a 4-8 week lead time, orders are shipped first-come first-serve so your actual shipping date may vary depending on inventory and the timing of production cycles when you place your order.
You've introduced literal tons of silica, carefully crystallized and configured by our dear mother nature over the millennia, to the king of MOHs. You're cranking out cabs and have fat chunks of the finest Siberian and Wyoming jade carving blocks. You are really tired of sacrificing your knuckles to the slathering sanding wheel next door. A generous amount of empty dedicated counter space stares at you longingly for silicosis-inducing companionship (wear your masks and respirators, friends). It's time to move up to save time and some wear and tear on your hands. When you asked the experts you know where to go from here, there's a reason they all said The Titan…"
Well, here you are.
The Diamond Pacific Titan is the top dog of grinding lapidary gemstones efficiently and accurately, and has available accessories to extend its capabilities into serving as a jewelers buffer for metalwork or flat lap machine. The decades-proven industry standard Galaxy and Nova diamond wheels mounted in a convenient series lets you roll directly from rough to polish without any time wasted changing wheels. Finish cabs from preform to polished cabochon in a few minutes. Diamond Pacific has designed and refined the Titan over years and years to give you lasting service, convenience, and top performance to keep your professional cutting efficient and easy on your hands and patience. Starting with a top quality motor big enough for the job, Diamond Pacific does not skimp on any component parts to give you the highest quality and longest lasting cabbing machine life possible for your lapidary workshop.
Go ahead, mount that big fat heavy sintered wheel.
Construction
Built in beautiful California by Diamond Pacific Tool Corp, the Titan gem-maker gives you the most cabochon working space and silica deconstructing power of large 8" diamond wheels. Driving the six big wheels is a 3/4 HP sealed motor that that never needs oiling. It has a 1" diameter shaft that is even heavier through the bearings which have a 30mm bore and accepts accessories mounting with a 1/4 inch-20 thread bolt. The Diamond Pacific Titan comes outfitted with a full complement of six 8-inch diamond wheels mounted under solid-cast aluminum hoods. Diamond Pacific's standard sequence of Galaxy and Nova diamond wheels is the best all-around choice for shaping and polishing stones. Wheels are easy to change if you need to mount specialty tools. Titan's double pump Spra-Mist geyser system provides plenty of water to the wheels while you work, keeping your stones cool and the rock dust down. The pans are also solid-cast aluminum with plastic splash guards, and are easily removed for cleanup.
Included with your Titan:
Get everything you need
Select optional accessories to expand and upgrade the capabilities of your Titan:
Does your bench need something smaller but still powerful enough for all of your lapidary needs? Check out the Genie with 6-inch wheels and a 1/2-hp motor!
Hitting the road and need something more portable? Check out the smaller Diamond Pacific Pixie Gem-Maker.
Looking for something more budget-friendly while still needing large 8-inch wheels? Check out the 8-inch CabKing cabber.
If you are unable to complete checkout due to shipping calculations not being available, please contact us with your shipping address for a quote invoice.
---