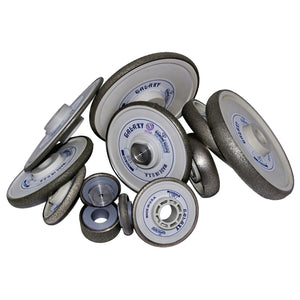 Diamond Pacific
Galaxy Convex Carver Wheels
Regular price
$94.09
Unit price
per
Diamond Pacific Galaxy diamond carving wheels are convex shaped to help the gemstone sculptor grind challenging grooves and curves in stone. Use Diamond Pacific Galaxy rounded-faced grinding wheels when doing gem carving, lapidary intarsia, fantasy carving, channel carving work, custom body jewelry, stained glass, or many other applications that require curved edges.
Construction
Diamond Pacific Galaxy Carver wheels offer top-shelf durability and lifespan due to their quality decades-proven construction. Precision-graded industrial diamond is bonded by an extremely hard alloy nickel plating to a heavy durable steel ring mounted to a tough glass-filled polyester core. Consistent diamond wheel manufacturing offers a smooth, quiet running wheel for nearly any brand lapidary arbor.
Diamond Pacific Galaxy Carver wheel construction means they're clean and easy on your water supply since the wheels don't break down and wear away.Galaxy Carving Wheels must be used with water, but you only need a small amount to keep the wheels and stone wet, cool, and to minimize the rock dust. You can extend the life of your diamond wheels with the optional use of 412 Slick Lube diamond tool lubricant.
Follow up with soft 6" Diamond Pacific Convex Nova Carver Wheels to remove scratches left by these Galaxy Convex Carving Wheels
Selection and Compatibility
Use the 1/4" and 1/2" widths for narrow grooves and the 1" wide for larger ones. Four wheel diameters increase your choices. The wheel can be mounted on extra right-hand adapters for easy spin-on and spin-off changing of your far right wheel on Diamond Pacific's Gem-Makers.
Galaxy Wheels have a 1" arbor hole, wheel bushings are NOT included and will be necessary to install on arbors having smaller than 1 inch shaft sizes. These Galaxy wheels can be installed on the Diamond Pacific Bigfoot (2"), Diamond Pacific Pixie Gem-Maker (4"), Diamond Pacific Genie G2 Gem Maker (6"), Diamond Pacific Titan Gem Maker, (8") and CabKing 6 inch or CabKing 8 inch depending on your machine. Spacing between wheels may need adusted for CabKing or other machines if you are upgrading from another brand wheel to ensure your water supply continues to route correctly to the wheel as intended. You can equip your Diamond Pacific Cabbing Machine or CabKing with a spare shaft to quickly change out your choice of additional wheels without having to disassemble your cabber's mounting nut! Precut shaft spacers are available when needed.
Available Diameters:
2" diameter
4" diameter
6" diameter
8" diameter
Available Widths:
Available Grits:
100
220
⚠️ 360 & 600 grit Galaxy Wheels have been discontinued by Diamond Pacific and cannot be restocked after SUVA's stock is gone.
Instructions, Manuals, and Usage Tips
---