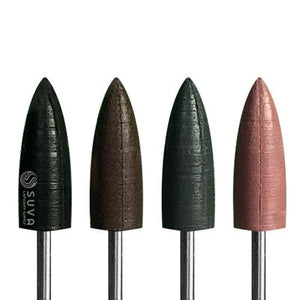 Diamond Pacific
Nova Points
Regular price
$8.32
Unit price
per
Diamond Pacific Nova Points offer a convenient way to quickly sand and polish gemstone and opal carvings with your Foredom or Dremel. Nova Points solve many gemstone carving challenges by offering the speed, high performance, and no mess of Diamond Pacific's legendary proprietary Nova resin-bond diamond formulas in 2 sizes of 2 Nova tips shapes for use on your carvings during the sanding and polishing processes. They are designed to avoid headaches while sanding those hard-to-reach areas to remove the coarse scratches from your latest lapidary masterpiece.
Use
After a gemstone, custom body jewelry carver, or other lapidary artist creates a preform for a carving with sintered carving burs or your preferred sequence of carving bits, the go-to sequence of Nova bits for sanding and polishing many commercial lapidary materials with a Foredom or Dremel is the 280, 600, 1200, and 3,000 grit diamond polishing bits, followed by the use of a 14,000 grit Nova Point. A Dremel will need a #481 collet to fit these shafts, available for a few dollars at any hardware store selling Dremel accessories. While this sequence will put an acceptable polish on most stones, many hard-to-polish material may require more steps such as additional grit Nova burrs, Diamond Pacific Phenol points or SUVA's exclusive hardwood polishing burs charged with Mt. Mist Super Polish or standard diamond paste, or felt burs with your favorite lapidary polish such as tin oxide, or cerium oxide.
Specifications
Diamond Pacific Nova carving points are a resin-bond diamond compound bonded to a mandrel shaft for use in lapidary rotary tools such as a Foredom or Dremel. Pictures show the reference shape, but Nova burs are slightly flexible and will wear away with use and abuse. Diamond Pacific Nova burs MUST be used with a lubricant like water or silicone extender fluid.
Available Shapes and Sizes
All sizes are approximate on new Diamond Pacific Nova Points and can vary slightly during construction. Diamond Pacific Nova tips for Dremel and Foredom tools have a mandrel size of 3/32 inch which fits most Foredom and Dremel power rotary tools used in gemstone carving. Nova Dremel bits and other lapidary Dremel bits ship for free when you order $100 or more!
N1M Small Bullet Point is 7mm tapered to 4mm, pointed tip
N1L Large Bullet Point is 9mm tapered to 5mm, pointed tip
N2M Small Rounded Cylinder is 8mm wide, round tip
N2L Large Rounded Cylinder is 9.5mm wide, round tip
All are roughly 18-20mm tall, sizes vary slightly
Available diamond Nova Points Grits and Colors
Diamond Pacific Nova burs in pre-polish grits are available in a discounted SET of 4 Nova points containing of 1 each of the following Nova grit colors
280 grit - Black
600 grit - Brown
1200 grit - Grey
3000 grit - Rose
All Diamond Pacific Nova polishing points are also available in individual grits
60 grit diamond-resin - Green
100 grit diamond-resin - Lt Green
140 grit diamond-resin - Rust
280 grit diamond-resin - Black
600 grit diamond-resin - Brown
1200 grit diamond-resin - Grey
3000 grit diamond-resin - Rose
8000 grit diamond-resin - Tan
14000 grit diamond-resin - Cream
50000 grit diamond-resin - Lt Blue
---