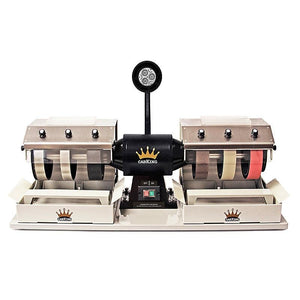 CabKing
8-inch Cabbing Machine
Regular price
$2,399.00
Unit price
per
🚛 FREE US shipping!
Why order your cabbing machine from SUVA?
Full manufacturer warranties apply for every machine and our always-competitive prices. We also understand the varying lead-times for a machine to ship from the manufacturer can feel like a kid during the weeks before a birthday. So every cabbing machine purchase from SUVA scores you a "starter pack" of your choice of 2 professional cabochon templates to start planning your first cabs while you wait for your machine to arrive! Add your choice of 2 single cabochon templates to your cart with this machine to apply the discount.
*US addresses only, the cost of starter pack items will be deducted from refunds if an open machine order is requested to be canceled prior to shipping.
The CabKing-8V1 cabbing machine is an 8" diameter diamond wheel unit that grinds and polishes rock, synthetic rock, glass and metal. Because of its rugged, professional-grade build, this cabbing unit is perfect for professionals, studios, clubs and serious hobbyists. Features simplified drainage set-up, 115V 3/4 hp direct drive AC motor, and a clean, adjustable water system.
Included with the CabKing-8
Get everything you need
Select optional accessories to expand and upgrade the capabilities of your 8-inch CabKing machine:
220V CE-rated models available- contact us for details!
---