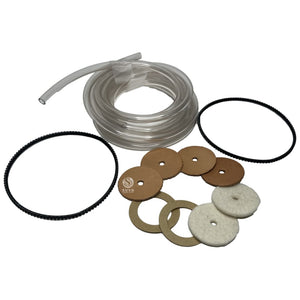 Diamond Pacific
Pump Maintenance Kits for Diamond Pacific Titan
Regular price
$36.99
Unit price
per
Pump maintenance kits include everything needed for routine air supply rebuild maintenance on your Diamond Pacific Titan cabbing machine.
Note that washers are different sizes between kits, choose the kit based on how many pumps your Titan has installed by default - single pump kits are for older model Titans.
These kits contain OEM replacement parts including:
Replacement pump leathers
Vellumoid gasket
Tubing for geysers
Pump belts
You can also purchase other replacement parts for your Diamond Pacific Titan if you need to perform more in-depth restoration beyond the pump rebuild.
---