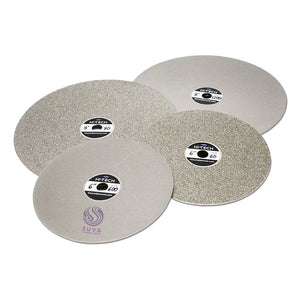 Hi-Tech Diamond
Diamond Lap Discs
Regular price
$29.99
Unit price
per
Hi-Tech Diamond electroplated diamond laps and mounted discs provide a flat grinding surface for both rough and fine grinding on stones and glass. These electroplated diamond laps and discs are used on the All-U-Need and Slant Cabber lap machines, and can be used on all other lap machines that accept 1/2" arbors.
Top-grade diamond powder is nickel electroplated uniformly onto a 1mm-thick steel disc. Made of steel, these diamond laps have a long lifespan and are well-suited for more heavy-duty grinding. All 6" and 8" diameter discs have 1/2" arbor holes and are available in a large variety of different diamond grits.
All diamond laps are available with 3 backing choices:
Unbacked discs for use with your own backing plate system*
Unbacked discs with peel-and-stick 3M pressure-sensitive, high-tack adhesive backing on the backside for permanent mounting to your own backing plate
Discs professionally bound to an acrylic backing plate
Max RPM is 4,000.
*It is recommended to purchase a disc bushing with unbacked diamond discs that are not permanently bound to a backing plate to prevent possible vibration and off-centered alignment that may occur.
---