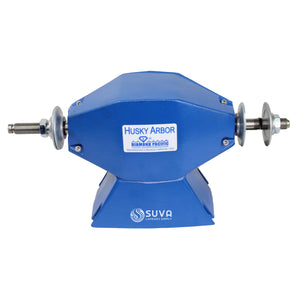 Diamond Pacific
Husky Arbor System
Regular price
$449.00
Unit price
per
Why order your cabbing machine from SUVA?
Full manufacturer warranties apply for every machine and our always-competitive prices. We also understand the varying lead-times for a machine to ship from the manufacturer can feel like a kid during the weeks before a birthday. So every cabbing machine purchase from SUVA scores you a "starter pack" of your choice of 2 professional cabochon templates to start planning your first cabs while you wait for your machine to arrive! Add your choice of 2 single cabochon templates to your cart with this machine to apply the discount.
*US addresses only, the cost of starter pack items will be deducted from refunds if an open machine order is requested to be canceled prior to shipping.
The Diamond Pacific Husky arbor units are ideal for setting up multiple grinding, sanding, and polishing stations in industrial shop set ups and for community center and club workshops.
You can mount an 8-inch cabbing wheel or expanding drum on each end of the shaft. Both ends have a 1/2-inch step for mounting laps. The right hand will also accept 1/4"-20 screw-back discs.
The possibilities are endless...
You can set up the arbor as either a stone or metal finishing unit. You can use expanding drums with belts or a variety of grinding and polishing wheels.
Construction
The 8-inch arbor is heavy duty, cast aluminum with a split housing so just the removal of four screws allows you to change the belt or remove the shaft for bearing replacement. The arbor shaft is 3/4-inch stainless steel with overall length of 18 inches. Cushion-mounted bearings and 3-step pulley attach to your motor (not included). Overall dimensions approximately 20 x 10 x 10 inches.
Original manufacturer spare and replacement parts are available for your Diamond Pacific Husky arbor.
---