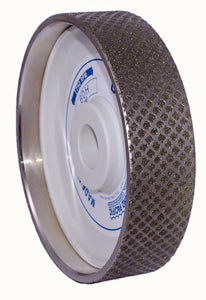 Diamond Pacific
Hex Galaxy Wheels
Regular price
$149.06
Unit price
per
Diamond Pacific Hex Galaxy Diamond Grinding Wheels feature hex surfaces for high-volume or high-speed rough cutting of hard materials where efficient washing away of debris is important. A versatile choice of grit and wheel sizes are available to fit your needs and equipment.
These hex wheels are a more aggressive version of the industry-standard Galaxy Cabbing Wheels made by Diamond Pacific. The diamond shaped, interrupted pattern of these Diamond Pacific Galaxy Hex version wheels in 80, 60, and 30 grit sizes are the coarsest, fastest grinding wheels available. They have a true-running diamond surface that never needs dressing. Use these lapidary diamond wheels to grind preforms for cabochons, custom body jewelry, mineral specimens, or any other stone that needs some extra encouragement to take on a new shape. Due to Diamond Pacific Galaxy wheels' construction they are clean to use. Because the wheels themselves don't breakdown and wear away with use as silicon carbide wheels do, you don't end up with all the mess of concrete-forming slurry in your Genie pans. You can extend the life of your diamond wheels with the optional use of 412 Slick Lube diamond tool lubricant. Galaxy wheels MUST be used with water, but you only need a small amount to keep the wheels and stone wet, cool, and to minimize the rock dust.
Follow up with your choice of Diamond Pacific's top-shelf Nova Wheels, CabKing's mid-range REZ wheels, or economical standard resin wheels for a complete lapidary rough-to-gem workflow.
Galaxy Wheels have a 1" arbor hole, wheel bushings are NOT included and will be necessary to install on arbors having smaller than 1 inch shaft sizes. These Galaxy wheels can be installed on the Diamond Pacific Bigfoot (2"), Diamond Pacific Pixie Gem-Maker (4"), Diamond Pacific Genie G2 Gem Maker (6"), Diamond Pacific Titan Gem Maker, (8") and CabKing 6 inch or CabKing 8 inch depending on your machine. Spacing between wheels may need adusted for CabKing or other machines if you are upgrading from another brand wheel to ensure your water supply continues to route correctly to the wheel as intended. You can equip your Diamond Pacific Cabbing Machine or CabKing with a spare shaft to quickly change out your choice of additional wheels without having to disassemble your cabber's mounting nut! Precut shaft spacers are available when needed.
Instructions, Manuals, and Usage Tips
---