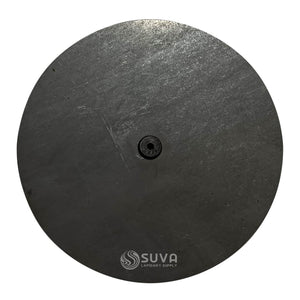 Lapcraft
Steel Master Laps for Magnetic Discs
Regular price
$50.00
Unit price
per
These steel master laps upgrade your lapidary cabbing or lapping machine to utilize magnetic mount lap systems offering a more convenient workflow and lower ongoing cost than the spin-on "No-Hole" diamond laps.
Use
Install this screw-back steel backing lap to the end of your cabbing machine shaft, then mount various magnetic-mount laps to the end of your machine to quickly finish flats, intarsia, or shaping your preforms and custom body jewelry.
It is recommended to dismount and dry any magnetic laps from this master lap after use on water-cooled lapidary arbors to prevent rust forming on the master steel surface.
Specifications
The face of the entire plate is made of steel for use with Lapcraft Magnetic Diamond Laps and Diamond Pacific Magnetic Nova Laps, or other magnetic lapping discs used in lapidary work. 6-inch bolt-through style is manufactured by Diamond Pacific while all other versions are made by Lapcraft.
Compatibility:
Magnetic-mount disc systems are available in 4-inch, 6-inch, and 8-inch common lapidary-use sizes, with and without a center hole. Center-hole laps include a allen-head mounting bolt while screw-back plates have a permanently affixed 1/4"-20 threaded mounting bolt.
Steel master laps are compatible with cabbing machines accepting a 1/4"-20 threaded bolt on the right-hand shaft-end, such as the Diamond Pacific Pixie, Diamond Pacific Genie, CabKing-6", Diamond Pacific Titan, Cabking-8", or other machines accepting this diameter accessory.
---