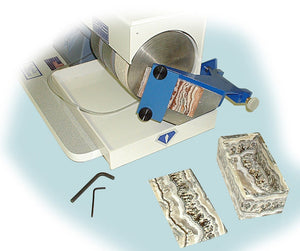 Diamond Pacific
The Boxer Genie and Pixie Attachment (Discontinued)
Regular price
$78.36
Unit price
per
With The Boxer you can easily make gemstone boxes with perfect mitered joints on your Diamond Pacific Pixie, Genie, or Titan Gem Makers. The mitered joints created by using the Boxer eliminate unsightly seams where sides are glued together. With mitered joints the seams become inconspicuous.
Using the Boxer to hold a slab at an angle, ends can be quickly ground to an accurate 45° bevel using a diamond lap. Four such slabs will fit together to make the sides of a box up to 3" deep with no limit on length.
The Boxer can be used with all 3 Diamond Pacific Gem-Makers: For the Genie Gem Maker or Titan, a 6" "No-Hole" lap on the right side or a standard diamond lap on the left side. For the Titan you will need to purchase the "Boxer to Titan Adaptor" listed separately below, this will allow mounting on either the right or left side. For the Pixie, use a 4" full face diamond laps and a smaller plastic pan purchased from the supermarket.
Diamond Pacific recommends a 100 grit lap. Sanding and polishing may be done with Diamond Pacific Nova Resin Bond Diamond Laps or Diamond Pacific Magnetic Nova Laps on a Diamond Pacific Pixie, 6" Diamond Pacific Genie, and 8" Diamond Pacific Titan Gem Maker. The Boxer is made of a combination of stainless steel and aluminum parts
---