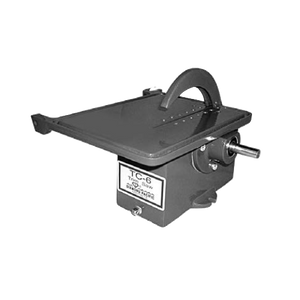 Diamond Pacific
Model TC-6 Trim Saw
Regular price
$76.00
Unit price
per
The Diamond Pacific Model TC-6 trim saw accommodates fairly large slabs for trimming on it's 8-1/2 x 9-3/4 inch flat table. Add the adjustable vise, and you have the industry's top slab saw for cutting small rocks.
The table swings up for easy cleaning and filling of the lubricant tank. The table and tank are cast aluminum with a powder coated finish for easy cleaning and long wear. The stainless steel 5/8-inch arbor has two sealed bearings and extra neoprene seal on tank side. Laminated baseboard measures 14-1/2 x 18 inches. This saw must be used with oil as a coolant. Its capacity is approximately two pints. We recommend Roc-Oil, for fast cutting without the usual disadvantages of other cutting oils. You can also use water with a rust inhibitor for easy clean-up.
There are two versions available for this saw:
Model 1000 basic saw includes tank, arbor, table, and blade guard
Model 3000 trim saw includes basic saw plus belt guard, splash guard, baseboard, and 1/3 HP motor (115V/60Hz and export 230V/50Hz available)
A Slabbing Vise attachment to convert these saws for slabbing. Metal parts with wooden vise jaws. Easy to install and remove.
Spare parts and an adjustable vise, and 6" Blade (5/8-inch arbor) are available separately.
Not the right saw for your needs? Shop the full collection of lapidary saws available through SUVA including the Hi-Tech Diamond Trim Saws in 4-5-inch and 6-inch sizes.
---