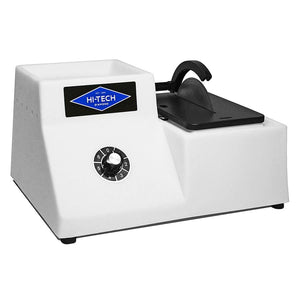 Hi-Tech Diamond
Trim Saw 4-5 inch
Regular price
$349.00
Unit price
per
🚛 FREE US shipping!
The smallest member of Hi-Tech Diamond's line-up of powerful, economical saw machines in different sizes to accomodate your sawing needs.
Manufactured with durable, nearly unbreakable, cross-link polyethylene housing, these saw machines are rustproof and leightweight, making them portable and easy to travel with.
Cleanup is fast and easy with easy-to-remove saw tables. Included spray shield keeps water off of you while you work. All saw machines come with TWO saw blades that fit onto the installed 5/8-inch aluminum arbor.
4"/5" Trim Saw- Dual Blade
Perfect for trimming cab pre-forms or faceting material
115 V or 220 V 1/4hp installed motor delivers variable speed from 800-3400rpm
Large 7.5" X 4.75" saw table
Built-in water reservoir holds up to 8oz water
Includes one 4" thin notched diamond saw blade
Includes one 5" thin notched diamond saw blade
Not the right saw for your needs? Shop the full collection of lapidary saws available through SUVA including the Diamond Pacific TC-6 Trim Saw.
---