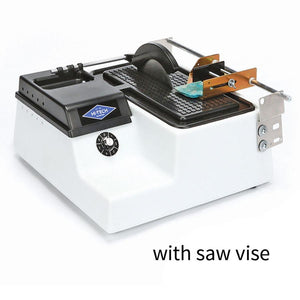 Hi-Tech Diamond
Trim Saw 6 inch
Regular price
$479.00
Unit price
per
🚛 FREE US shipping!
This 6-inch saw can quickly trim your slabs before heading to the cabbing machine.
Hi-Tech Diamond's line of powerful, economical saw machines come in different sizes to accomodate your sawing needs. Manufactured with durable, unbreakable, cross-link polyethylene housing, these saw machines are rustproof and leightweight, making them portable and easy to travel with.
Cleanup is fast and easy with easy-to-remove saw tables. Included spray shield keeps you dry while you work. All machines come with TWO saw blades that fit onto the installed 5/8" aluminum arbor.
6" Trim Saw - Dual Blade
Perfect for trimming out cab pre-forms from rock slabs for all types of material or to cleanly trim faceting material
115 V, 1/4 hp installed motor delivers variable speed from 800-3400rpm
Large 15.5" X 9" saw table
Built-in water reservoir holds up to 16oz water
Includes one 6" thin notched diamond saw blade
Includes one 6" thin sintered diamond saw blade
220V CE-rated models available- contact us for details!
Not the right saw for your needs? Shop the full collection of lapidary saws available through SUVA including the Diamond Pacific TC-6 Trim Saw.
---