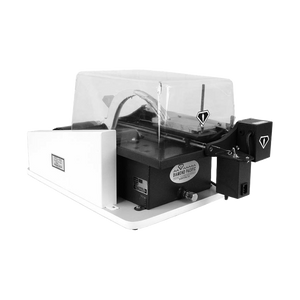 Diamond Pacific
Model TC-10 Lapidary Slab Trim Saw (Discontinued)
Regular price
$1,681.88
Unit price
per
This model has been discontinued, please see the Diamond Pacific 10TS-B Trim/Slab Saw or Hi Tech Diamond 10" Saw
This Diamond Pacific Model TC-10 10" lapidary saw made it easy to trim and slab small rocks. A power feed mechanism makes slabbing especially easy. For slabbing, secure your rock in the vise, push the button, and the power feed goes from there. You can slab rocks up to approximately 3-5/8" x 6" wide by 4" long. The vise glides smoothly and accurately on two stainless steel rails. Vise cross feed is 2". The power feed has an automatic shut-off switch for safety.
Trimming slabs is also easy. The arbor is centered on the table which makes the front of the blade perpendicular to the table, causing less waste. The stainless steel 5/8" arbor shaft has two sealed ball bearings and extra neoprene seal at the tank for extra long life. The saw table is 13" x 17" with a rim around the edge to contain water and sludge while sawing.
The TC-10 comes with a clear, plastic hood that is easily installed and removed. Splash from the cutting blade is contained within, but you can easily check your progress through the clear hood. Clean up is easy, too. The table with vise and switches is hinged at one end, and flips up for access to the coolant tank and sludge removal. There is also a drain at one end of the tank.
Tank and table is durable aluminum construction with impact resistant finish for long life. Mounted on a 16" x 24" laminated baseboard. This saw requires oil as a coolant. Tank capacity is approximately 1 gallon. We recommend Roc-Oil for cutting. This saw takes a 10" blade with a 5/8" arbor hole. The Model TC-10 10" saw is attached to a 16" x 24" laminated baseboard. Overall length of the saw is approximately 30" to include motor and power feed controls. Equipped with a 1/3 HP 115V/60Hz motor, power feed, vise, and see-through hood
---