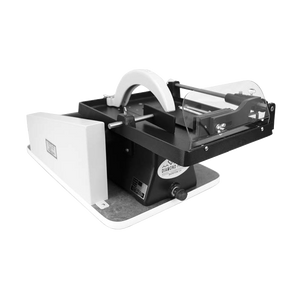 Diamond Pacific
Model 10TS-B Lapidary Slab Trim Saw
Regular price
$1,551.20
Unit price
per
The Diamond Pacific Model 10TS-B Lapidary Saw has all the features needed to make it the most versatile saw for your workshop, doubling as a gravity-feed slab saw and a trim saw by rotating the vise off to one side to free the table for trimming.
Specifications
The 10TS-B saw is solidly built with a rugged cast aluminum construction and a durable, impact-resistant finish. Arbor shaft is 5/8-inch stainless steel with lubricated factory sealed ball bearings, and an extra neoprene oil seal on the tank side. You must use this saw with oil as a coolant. We recommend Roc-Oil for fast cutting without the usual disadvantages of oil. This saw uses approximately 1/2 gallon of coolant.
The vise jaws are steel plate with hardwood facings. Designed for a time-tested, economical gravity feed system, the vise has 1-1/2" lateral movement for cross-feeding and adjustable stop guide for constant thickness cuts. With the vise in place, you can slab rocks up to 3-1/2" in diameter. Table measures 12"W x 17"L; overall size approximately 29-1/2"L x 18"W.
10-inch blade is not included. Spare and replacement parts are also available.
---