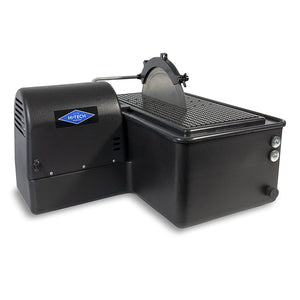 Hi-Tech Diamond
10 Inch Slab Saw
Regular price
$799.00
Unit price
per
🚛 FREE US shipping!
This composite-body trim-slab saw can handle your small roughs and slabs quickly, cleanly, and efficiently.
Hi-Tech Diamond offers a line-up of powerful, economical saw machines in different sizes to accomodate your sawing needs. Manufactured with durable, unbreakable, cross-link polyethylene housing, these saw machines are rustproof and leightweight, making them portable and easy to travel with. Cleanup is fast and easy with easy-to-remove saw tables. Included spray shield keeps water off of you while you work. All saw machines come with TWO saw blades that fit onto the installed 5/8" aluminum arbor.
10" Trim Saw- Dual Blade
Perfect for slabbing out larger stones and material into more manageable pieces
115 V or 220 V, 1/3 hp installed motor delivers speed of 1725rpm
Large 19.75" X 12" saw table
Built-in water reservoir holds up to 32oz water and comes with built-in drain plug
Includes one 10" thick notched diamond saw blade
Includes one 10" thin sintered diamond saw blade
Not the right saw for your needs? Shop the full collection of lapidary saws available through SUVA.
---