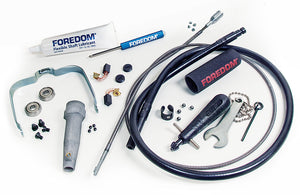 Foredom
Tune-Up Kits for Foredom Flex Shaft Motors
Regular price
$74.21
Unit price
per
Proper maintenance of your Foredom flex shaft can ensure a long life and smooth operation. These tune-up kits provide everything needed for a complete overhaul of your Foredom flex shaft motor and handpiece.
Usage
These 32-Pc Foredom Tune-Up Kits include essential maintenance items that keep your flex shaft motors and handpieces running at peak performance. You can renew heavily used, older, and discontinued or worn machines into ones that run like new. Four dedicated kits are configured to accommodate Foredom's flex shaft line. Over the life of a machine, users can expect to clean, lubricate and, ultimately replace shafts, sheaths, and motor brushes. Motor and handpiece bearings may also wear over time, and depending on the level of use these components may require replacement. You can install new parts and perform routine maintenance without having to send the tool back to the factory minimizes the financial burden of ownership and keeps you working without lost production time.
Specifications
Replacement parts in each kit are specific to the compatible motors they are intended for.
Kit MSP12 for Series SR motors with 1/6hp built since 2005.
Kit MSP16 for old discontinued 1/8HP Series S & SR motors made prior to 2005.
Kit MSP14 for old and discontinued Series 1/10hp CC 110V motors.
Kit Contents
Replacement Key Tip Shaft and sheath
Tube of Foredom Grease
Screws for Motor Connector, 4-pk
Spring Clip for all Handpieces
Catch Ball for all Handpieces, 4-pk
Screwdriver
4 Set Screws for Key Tip Shafts
Ball Bearings for Motor & Handpiece
Handpiece Grip for H.30 Handpieces
Hanging Bale for Motors
Shoulder Screws for Motor Bales
Motor Brushes and Caps
Product Videos
How to Replace Foredom Flex Shaft
How to Lubricate Foredom Flex Shaft
How to Replace Foredom Motor Brushes
How to Maintain a Foredom Flex Shaft
How to Maintain Foredom Handpieces
How to Maintain Foredom Standard Handpieces
How to Maintain Foredom Quick Change Handpieces
How to Change Bearings in Foredom H.30 Handpiece
How to Change Bearings in Foredom H.44T Handpiece
Manuals & Instructions Downloads
---