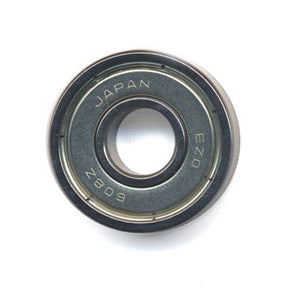 Foredom
Ball Bearing Replacements for Foredom Flex Shaft Handpieces
Regular price
$8.69
Unit price
per
Replacing the worn bearings in your Foredom Flex Shaft Handpieces will ensure your flex shaft runs true and smooth while working on your gemstone carving and jewelry projects.
Usage
If your handpiece begins to run hot, it may be the result of excessive grease migrating down the shafting and into the handpiece. The bearings may also be worn and require replacement. You will need to open the handpiece, expose the bearings, wipe clean and/or replace them.
Specifications
Older handpieces have Press Fit type bearings that require replacement at the factory. In 2002 Foredom started using Slip Fit bearings which allow the user to change them out.
The ring pattern on any of the H.30 and H.44 handpieces identifies the type of bearings inside:
If your handpiece has 5 narrow rings at the front end and then thicker sets of 3 rings, 2 rings and 3 rings toward the back end, then the bearings are Slip Fit and you can replace them on your own. Please note that the process for H.44T also applies to H.43T.
If the ring pattern is different than noted, the bearings are Press Fit and you will need to send them in to the factory for replacement.
Choose From:
HP58 Replacement Ball Bearing for H.28, H.28H, H.28SJ, H.8, H.8D and H.8SJ Handpieces.
Product Videos
How to Change Bearings in Foredom H.30 Handpiece
How to Change Bearings in Foredom H.44T Handpiece
How to Maintain Foredom Standard Handpieces
How to Maintain Foredom Quick Change Handpieces
---