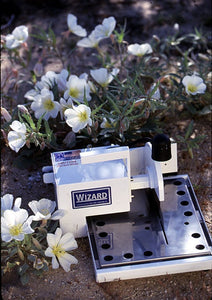 Diamond Pacific
Wizard-4G Lapidary Trim Saw
Regular price
$19.99
Unit price
per
The Diamond Pacific Wizard-4G Trim Saw makes a full 6" cut—more than some larger saws. Fairly large slabs can be trimmed simply by turning them to cut from opposite directions.
The Wizard-4G uses water as a coolant and this benefit alone makes the Wizard-4G a pleasure to use. Water is cheap, non-toxic and easy to clean up, unlike every other coolant you can use... especially oils.
When it comes to cleanup, the pans detach from the rest of the saw with a single thumb screw. Take the pan and the saw table to the sink for cleaning and leave the saw on the work bench. No other saw of any size or description is this easy to clean.
The Wizard-4G saw housing is stainless steel powder coated for good looks and durability. The saw pan and table are molded from sturdy ABS plastic that is easy to clean and gives years of service. The high-torque motor has plenty of power for trimming any hardness of rock. Motor has Ground Fault Circuit Interrupter (GFCI) to protect against electrical shock caused by moisture. The unique angle block included with the trim saw allows you to finish-trim the edges of your cabs at a ten degree angle, giving you a head-start toward grinding the bezel of your cab.
An optional rip fence attachment is available separately to cut your slabs into uniform strips.
You can choose your own blade from a number of blade types and thicknesses (not included with saw). This saw can support blades with a 5/8" or 1/2" arbor hole. While it is generally safe with drying and cleaning after use to use any blade with this saw, it is recommended for best results to use a blade specifically designed for water, such as the BD-305 or Dia-laser blades.
This saw ships with a sample bottle of Water Aid Wetting Agent, angle block, and safety goggles. The Wizard-4G measures approximately 12" from front to rear, and 13" from left to right and is a trim saw not designed for slabbing rough rock.
---