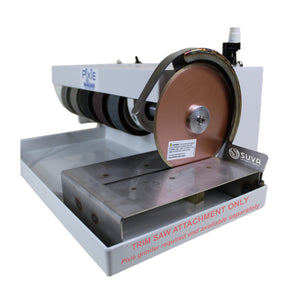 Diamond Pacific
Trim Saw for Diamond Pacific Pixie Gem Maker
Regular price
$233.46
Unit price
per
With this attachment you can quickly and easily add a 6-inch lapidary trim saw to your Diamond Pacific Pixie cabbing machine, allowing you to conveniently prepare cabochon pre-forms or trim small gemstones with your cabber.
Now you can trim small slabs on your Pixie Gem Maker. You can cut up to a 5" square slab right in half. Easy to attach the trim saw parts by removing the right hand wheel adaptor, and then attaching the saw blade adaptor with blade. The saw table and blade guard are made of stainless steel for long life. Comes with a 6" sintered rim blade and uses your Pixie's geyser. You can use either a 1/2" or 5/8" arbor hole blade by turning over the blade flange. We recommend using a water-specific blade such as a Dia-Laser or BD-305 with this saw attachment.
Comes with saw table, blade guard, 6" blade, adaptor, flanges, instructions, and safety goggles. This is an un-powered trim saw attachment for a Diamond Pacific Pixie ONLY, the Pixie machine is required to power the saw blade. The Pixie machine is NOT included with the saw attachment and the attachment does not fit machines other than a Diamond Pacific Pixie.
---