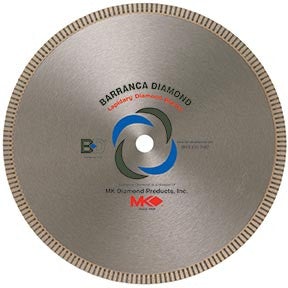 Barranca-Diamond
MK-301 Gemking Diamond Saw Blades
Regular price
$81.00
Unit price
per
MK-301 Supreme Lapidary blades have been redesigned with a greater diamond concentration and a higher carbon content steel core for improved tension memory. The solid diamond sintered kerf provides better cutting performance and improved coolant flow in your lapidary saw. The MK-301 provides superior cutting performance for hard materials such as agate, petrified wood or jade.
These lapidary saw blades are manufactured by MK Diamond in multiple sizes and thickness. These are the same blades as the BD-301 made by parent company Barranca Diamond.
BD-301 lapidary blades require a petroleum based or synthetic cutting oil as a cutting fluid/coolant. Water is not suitable to use with these blades and will result in damage to the blade's cutting capacity and will void the warranty. The blades should not be used dry under any circumstances.
Blade bushings are available to adapt a chosen blade to your lapidary saw: 5/8" arbors can be bushed to 1/2", and 1" arbors can be bushed to 3/4" or 5/8".
16-20" blades are segmented rim.
Doesn't sound like the right blade for your needs? Check out other lapidary saw blades to fit your saw, including MK-303 lapidary blades.
Please note that you may receive either a BD301 or MK301 version of this blade when ordering based on current supplier stock, MK and BD diamond blades are the same blades, from the same manufacturer, with the same part numbers but a different label.
---