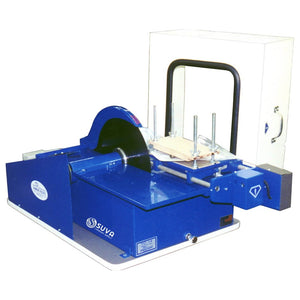 Diamond Pacific
Model TC-14 Slab Trim Saw
Regular price
$200.00
Unit price
per
The TC-14 is a unique and convenient 14-inch lapidary saw that will serve the needs of most rockhounds that comes set up to use both as a slab or trim saw.
The removable table vise easily holds a 5" by 7" rock for slabbing. The TC-14 is also designed to be used as a trim saw. Large slabs can be held in the vise for trimming off edges or a series of slices. Larger rocks can be cut depending on their configuration and how they fit in the vise, blade and saw box space. The vise has over 3" cross feed adjustment, and moves on strong, stainless steel glides. The power feed motor is geared for continuous operation with a slip clutch and safety shut off switch. Once the cut is made, it is easy to pull the vise back to the starting position for the next cut. The saw's hood is powder coated steel. Includes acrylic window for viewing.
This saw can be converted to a full trim saw by removing the vise system, disconnecting the power feed and leveling the top of the table on one side of the blade (use a piece of board to level) The arbor is mounted on top of the deck so the center of the blade is even with the deck top. This makes 90 degree corner trim cuts easy.
Notable features:
Power feed motor is geared for continuous operation.
Removable table vise holds a 5" x 7" rock. Will cut a 5-1/4" depth over the vise.
Saw arbor housing is cast aluminum with 3/4" stainless steel arbor shaft and two sealed ball bearings. Saw table and tank are heavy gauge steel plate. Measures 24"W x 39"L x 21"H.
Industrial powder coat finish on all appropriate parts.
Motor is 1-2 HP 115V/60Hz; EXPORT is 220V/50Hz
Both saw models require the Crating Fee for shipping from manufacturer
This saw must be used with oil as a coolant. We recommend Roc-Oil for fast cutting without the usual disadvantages of oil - approximately 2-1/2 gallons of coolant required.
This saw ships complete from sunny California with base, tank, vise, power feed assembly, motor, guards, and hood. 14-inch blade is not included. Spare and replacement parts are also available.
Blades ship separately.
If you are unable to complete checkout due to shipping calculations not being available, please contact us for a quote invoice with your email and shipping addresses.
*CRATING FEE IS REQUIRED WHEN ORDERING THIS MACHINE.
Not the right saw for your needs? Shop the full collection of lapidary saws available through SUVA.
---