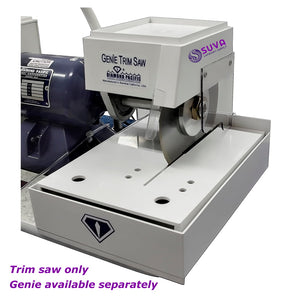 Diamond Pacific
Trim Saw for Diamond Pacific Genie Gem Maker
Regular price
$82.42
Unit price
per
With this attachment you can quickly and easily add a 8-inch lapidary trim saw to your Diamond Pacific Genie cabbing machine, allowing you to conveniently prepare cabochon pre-forms or trim small gemstones with your cabber.
The Genie trim saw attachment is easy to install and requires no oil or tools. Simply spin off the shaft adaptor with the three Nova wheels on the right hand side of the machine. Place the saw pan under the shaft. Mount the saw blade on the adapter and spin it onto the right hand shaft of your Genie. Slip the saw table and hood into place, fill the pan with five pints water, and cut your slab. Since the saw uses water and your existing geyser as a coolant, there is no oily mess or dangerous fumes. You can use the trim saw wherever you use your Genie.
The unique angle block included with the trim saw allows you to finish-trim the edges of your cabs at a ten degree angle, giving you a head start towards grinding the bezel of your cab. This saves time and wear on your expensive diamond wheels.
It is not recommended to utilize blades much thicker or thinner than the .032" rim thickness blade supplied with this attachment. The included safety goggles must be worn when using the machine.
Ships with a molded, durable plastic hood and pan, shaft adapter, angle block, sample bottle of Water Aid, splash guard, a sintered continuous thin rim all-purpose cutting blade (8" x .032 x 1" bore). This is a trim saw attachment for a Genie ONLY, the Genie is not included with the saw attachment and the attachment does not fit machines other than a Diamond Pacific Genie.
Download the Manual for your Genie trim saw attachment.
---