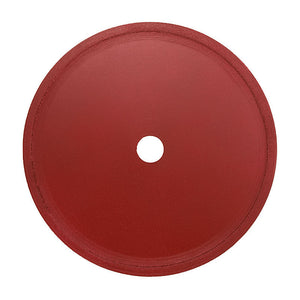 CabKing
CabKing Trim Saw Diamond Blades
Regular price
$50.00
Unit price
per
This CabKing sintered diamond saw blade is a superior blade for cutting material such as quartz, topaz, glass and agates. This blade uses sintered technology, providing longer longevity when compared to other non-sintered saw blades. They are directly compatible with both sizes of CabKing trim saw attachments in either size, for use with your CabKing-6" or CabKing-8" cabbing machine.
Two Blade Styles are Available:
A Sintered Blade with .031" rim is the durable choice, with premium 325#/400# diamond grit secured into a metal bond that extends the full depth of the rim so that diamonds are continuously exposed as the edge of the blade wears away with use. Using this sintered technology makes them last longer and gives you clean, thin cuts. This blade can be sharpened with a dressing stick when needed. 8" diameter x .035" core x .042" kerf with a 1" arbor hole.
A thin Super Slicer blade with .016" rim designed to cut twice as fast when compared to other blades because of their thin rims. The Super Slicer is well-suited for cutting material such as opals, sapphire, ruby and emerald. Premium 120# diamond grit is nickel-electroplated along the rim onto a strong spring core. 8" diameter x .012" core x .016" kerf with a 1" arbor hole.
---