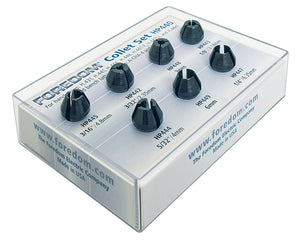 Foredom
Collets for Foredom Flex Shaft Handpieces
Regular price
$9.23
Unit price
per
You can increase the versatility of your Foredom flex shaft handpieces by purchasing additional collets to accommodate different diameter shank burs and other rotary tool accessories.
Specifications
Select collets for your Foredom Handpieces from seven fractional and metric sizes to fit a wide range of carving burs and accessories. Collets can be purchased individually or in a set.
HP440 Series Collets
These HP440 series collets fit collet-style Foredom handpieces H.43T, H.44, H.44T, H.44TSJ, H.43HT, and the BL Bench Lathe Adapters A-CHA-4 and A-CHA-5.
HP440 Full Set of 7 collets
HP442 fits 3/32" (2.35mm) shanks
HP447 fits 1/4" (6.35mm) shanks
HP443 fits 1/8" (3.18mm) shanks
HP444 fits 5/32" (4mm) shanks
HP445 fits 3/16" (4.8mm) shanks
HP448 fits 3mm shanks
HP449 fits 6mm shanks
HP600 Series Collets
These HP600 series collets fit Foredom handpieces H.8, H.8D, H.8SJ, H.28, and H.28SJ and Collet Adapter Attachment A-69224.
HP600 Full Set of 4 collets
HP602 fits 1/16" shanks
HP603 fits 3/32" shanks
HP604 fits 1/8" (2.35mm) shanks
HP605 fits 3mm shanks
---