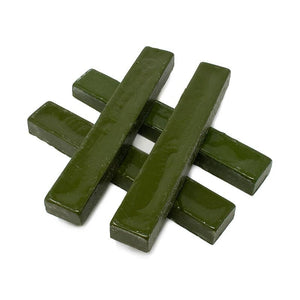 Inland Craft
Lapidary Dop Wax
Regular price
$11.70
Unit price
per
Green Dop Wax is used in lapidary for securing stones to dop sticks to ease the cabbing process and remove significant hand strain over time.
After planning your cabochon with a template and scribe and trimming your preform as needed, m>elt this green dop wax with the DopStation and mount your stone to a Dop Master System to easily organize and change between your mounted cabochon preforms. This wax also works well with other brand dop pots.
This specially formulated green wax from Inland Craft heats quickly and provides excellent adhesion for general lapidary use. The green dop wax softens at around 150°F (66°C) and comes in four 1/4 lb sticks to a box.
Please note this wax is brittle and sold by weight, some breakage of sticks may occur during shipping but does not affect ability to melt and use the wax.
---