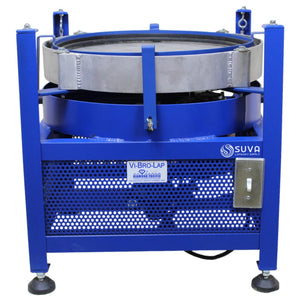 Diamond Pacific
Vi-Bro-Lap Vibratory Lap
Regular price
$215.00
Unit price
per
The Diamond Pacific Vi-Bro-Lap Vibratory Laps produce flat surfaces on geode halves, agates, petrified wood, and other materials and specimens while relieving you of the frustration of a nagging labor-intensive process during your lapping process.
The Vi-Bro-Lap can accommodate a number of specimens at the same time. The tempered aluminum lap plate is grooved in a criss-cross pattern which continuously refines and circulates the abrasive grits as they are crushed to smaller and smaller sizes between the lap plate and the workpiece.
USAGE AND OPERATION
While the Vi-Bro-Lap plate oscillates, work-pieces rotate in the pan. This gives a faster grinding surface speed, distributes abrasives, ensures a flat polished surface, and equalizes wear on the lap plates. When the work piece is ground flat and satin smooth, use the felt polishing pad with a fine polishing compound to obtain a fine mirror-like finish on your workpiece.
For general-purpose lapidary use, a sequence of tumbling grits in 60/90 coarse, 220 coarse, 400 fine, 600 pre-polish, 1000 pre-polish, , then a suitable polish slurry will produce a satisfactory shine on most lapidary materials. In general, a larger number of grit steps will lead to a better final polish.
CONSTRUCTION
Lap plates are manufactured from heat treated aluminum alloy to produce a tough, wear-resistance lapping surface. Each surface has a milled V-grooves in a square pattern to allow grit to circulate.
Suspension is controlled by aircraft strength cable, adjustable for fine leveling to keep your workpieces evenly distributed over the lap plate surface
The 20" 20VL model measures 21" W x 21" D x 21" H
The 27" 27VL model measures 28" W x 28" W x 30" H
Frame is constructed from welded, fabricated steel for stability. Powered by a 1/3-HP motor. Felt polishing pad included. An export model is available powered by a 220V / 50 HZ for use outside the USA. Ships with frame, motor, two pans, felt polishing pad, and set of brackets.
⚙️ Genuine Diamond Pacific replacement and spare parts are also available for your Vi-Bro-Lap.
CRATING FEE IS REQUIRED IN YOUR CART WHEN ORDERING EITHER THE MACHINE OR REPLACEMENT PLATE. (sorry - they're pretty big). Please include this option in your cart with the machine.
A donation of a portion of this item's sale price will be made to an approved humane organization.
---