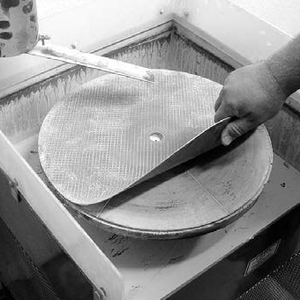 Diamond Pacific
Magnetic Nova Laps 18-24 inch
Regular price
$389.03
Unit price
per
Magnetic Nova Laps by give you fast polishing performance like Nova wheels combined with the convenience of an easy on-off magnetic lap. They attach right onto most steel flat laps and are easily removed.
A 1/16" thick backing of solid rubber contains magnetized iron particles so the laps will adhere to a cast iron, steel, or nickel plated lap. The rubber is coated with a thick layer of Diamond Pacific's special Nova resin-bond diamond formula for fast action and lasting service. The surface of the Magnetic Nova is made with a grid pattern for better performance.
With the proper back plate, Nova laps can be used on your present flat lap setup in most cases, but they will not adhere to aluminum or diamond coated discs.
Diamond Pacific's recommended general purpose grit sequence for sanding is 30, 60, 280, 600 and 1200 grits, followed by polish on a felt pad. For deep saw marks you may add a coarse diamond plated disc. Other sequences may be used with excellent results depending on the material to be polished.
Available diameters
Smaller magnetic Nova discs are also available in 4-6-8 inch diameter for use on cabbing machines, or 12-16 inch diameter for medium sized flat laps.