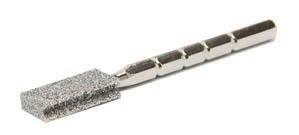 Inland Craft
Sintered Tool Re Shaping Block
Regular price
$13.75
Unit price
per
📦 Usually ships within 4-16 hours from SUVA!
This durable diamond re-shaping block renews your silicon grinding points, sintered wheels , and valuable sintered burs . These blocks are nickel electroplated with #60 and #80 diamond grit onto high-grade steel. Two grooves and one flat shaping area keeps your points running true and lets you grind to any desired shape.
It is important to remember that this process is destructive, and does remove material from your burs so it is important to not dress your burs too frequently or when not needed. Slowed cutting can occur when carving extremely hard, porous, "grabby" materials or when the burs are allowed to run too hot which can cause the matrix to become soft during those times. To maintain your sintered burs when the cutting action noticeably slows, lightly run the surface of the bur across the block. This will remove glazed metal matrix that might have been pushed over the cutting diamonds, and also fractures the diamonds in your bur to expose new cutting surfaces.
---