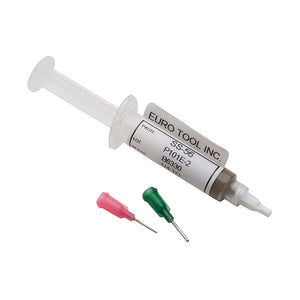 Eurotool
Silver Solder Paste
Regular price
$16.44
Unit price
per
📦 Usually ships within 4-16 hours from SUVA!
Eurotool's high-quality silver solder paste can be applied precisely for your jewelry soldering projects.
This cadmium-free soldering paste comes in 1/4 troy ounce amounts in an easy-to-use syringe for application exactly where you need it when soldering rope chain, hollow shells, findings, earring posts and other intricate jewelry designs. Contains a blend of solder powder, flux and binder.
Pastes are available in multiple melting points:

| Grade | Flow Point | Melting Point |
| --- | --- | --- |
| Extra Easy (SS56) | 1205°F (652°C) | 1145°F (618°C) |
| Soft (SS65) | 1325°F (718°C) | 1240°F (671°C) |
| Medium (SS70) | 1360°F (738°C) | 1275°F (690°C) |
| Hard (SS75) | 1450°F (788°C) | 1365°F (740°C) |
---