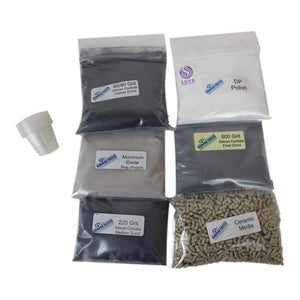 Diamond Pacific
Silicon Carbide Rock Tumbling Grit Kits
Regular price
$45.36
Unit price
per
Rock tumbling grit kits make it easy for those just learning or starting a new tumbler.
The abrasives included will polish a variety of stones from soft to hard on the MOHS scale.
Grit kits are perfect for rotary and vibratory rock tumblers, be sure to use water in each step. Kits contain 60/90, 220, and 600 silicon carbide grits, aluminum-oxide pre-polish, polish, ceramic media for filler, measuring cups, and instructions.
The KW-10 kit contains enough abrasives for approximately 8-10 loads for the Diamond Pacific MT-4 Mini-Sonic Vibratory Tumbler. You will have less for the Raytech TV-5 and other larger Mini-Sonic tumblers.
---