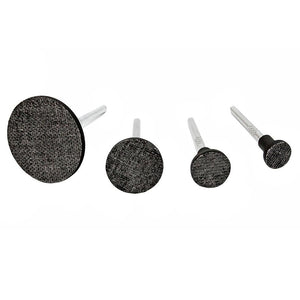 Hi-Tech Diamond
Mini Disc Holders
Regular price
$5.45
Unit price
per
Hi-Tech Diamond mini disc holders are great tools for contour shaping and polishing. They hold Hi-Tech mini diamond smoothing discs, mini tech-10 polishing pads and mini final polishing pads.
These are light, rubber disc holders that are used with a Foredom, Dremel with 1/8" collet, or any flex shaft hand piece that accepts 1/8" diameter shank.
Mini disc holders are available in four different sizes and come with a 1/8" mandrel. Each are sold separately. Please note that these are the mini disc holders ONLY. The mini smoothing discs and mini polishing pads are NOT included and sold separately.
Sizes available
.5" diameter
.75" diameter
1" diameter
1.5" diameter
---