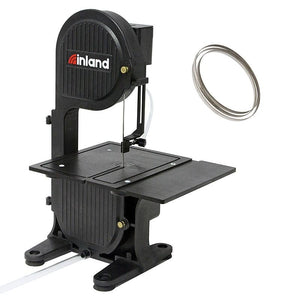 Inland Craft
DB-100 Diamond Band Saw
Regular price
$359.00
Unit price
per
📦
Special order, ships direct from manufacturer with tracking emailed to you when known.
The Inland Craft DB-100 band saw is the perfect workbench tool for cutting free-form cabs, various shapes, organic curves, inside curves, stained glass pieces, mosaics, intarsia, and more.
Available with one diamond band saw blade or with all three band saw blades. Manufactured with rustproof, lightweight, structural-grade thermoplastic housing, the DB-100 is rigid, portable, and easy to travel with. Variable speed motor for maximum control capable of speeds up to 3,400 RPM for the fastest possible cutting. The gravity-feed coolant system delivers clean water to the blade for wet sawing. Drain tube funnels dirty coolant away from the blade and prevents it from recirculating throughout the saw. 9" x 12" work surface.
230V/240V CE-rated models available
---