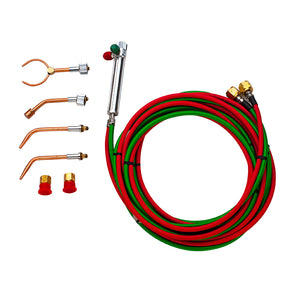 Gentec
Compact Torch Kits
Regular price
$174.55
Unit price
per
Gentec Compact Torches get you into tight spaces and allow you to do more precise work than any other torch on the market!
The Compact Torch's small size is designed to braze and solder the smallest jobs up to 1 1/4". The perfect step up in size from The Small Torch, you can work with bigger tips, hotter flame, and enjoy faster melting.
This Oxy-Acetylene/Propane/MAPP torch has chrome plated housing caps with durable adjustment knobs for smooth "easy-touch" pressure setting. Stainless steel internal gas tubing and copper tips providing the durability you need at your bench. Four included torch tips have double o-ring seats to ensure leak-proof connections and the easily maneuverable 12-foot extra flexible hose has "B" fittings for larger regulator connections. "A" fitting adaptors for light/medium duty regulators are included with all Compact Torch Kits.
---