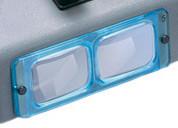 Donegan
OptiVisor Lenses & Accessories
Regular price
$14.72
Unit price
per
📦
Special order, ships direct from manufacturer with tracking emailed to you when known.
Don't settle for plastic lenses when it comes to improving your vision for close-up work while saving your eyesight when silica shrapnel comes flying your way. The Donegan Optivisor is a precision binocular headband magnifier which permits unrestricted user efficiency while reducing eye strain—leaves both hands free and allows three dimensional vision. Used by anyone whose profession or craft requires close accurate work. Can be worn over prescription or safety eyeglasses. OptiVisor lenses are prismatic, optical glass ground and polished to precise, optical standards. They are bevel edged and mounted in an interchangeable plastic frame, allowing you to have different lens powers for different needs. OptiVisor is still your best buy in a headband magnifier. Made completely in the USA by skilled craftsmen in Kansas.
We offer several accessories for your OptiVisor:
Extra lens plates for your collection:

#2 - Magnifies 1-1/2 X at 20" focal length
#3 - Magnifies 1-3/4 X at 14" focal length
#4 - Magnifies 2 X at 10" focal length
#5 - Magnifies 2-1/2 X at 8" focal length
#7 - Magnifies 2-3/4 X at 6" focal length
#10 - Magnifies 3-1/2 X at 4" focal length

OPTILOUPE attaches through the lens mounting screw on either eye lens, adding 2-1/2 X to your OptiVisor.
VisorLIGHT attaches to your OptiVisor assembly, illuminating the magnified viewing area as you work. Gives you a hands-free light with 6000 candle power Xenon Laserbeam source, powered by two AA batteries per 4-5 hours use in two versions:

LT-06 with a 10" short cord for mounting on a headband
LT-42 with a 42" long cord so the battery pack can be worn on a belt or placed in a pocket.
Normal Size

Lens Plate #2
Lens Plate #3
Lens Plate #4
Lens Plate #5

Lens Plate

#7

Lens Plate #10
---