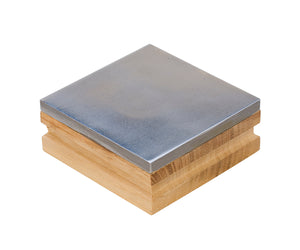 Eurotool
Bench Block
Regular price
$15.47
Unit price
per
📦 Usually ships within 4-16 hours from SUVA!
This sturdy steel bench block provides a solid foundation for jewelry forming and hammering jobs.
A 1/4" hardened, polished steel block is mounted on quality 3/4" hardwood base. The wood base cushions the blow on impact and transfers less vibration for less stress on your hands. You can flip it over and use the wooden side when a softer surface is needed. Measures 3" x 3" x 1". A three-piece Bench Block Helper is also available.
---