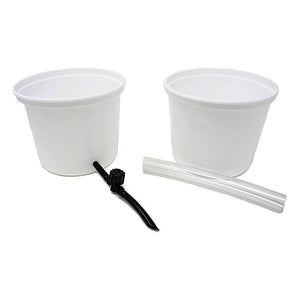 Hi-Tech Diamond
Water Kit for Hi-Tech All-U-Need
Regular price
$15.00
Unit price
per
The All-U-Need water kit is the main water system for the Hi-Tech Diamond All-U-Need flat lap machine. It is included with every all-u-need machine and provides proper water flow while you work. What you see in the picture is exactly how it comes. Water kit fits both 6" and 8" models.
Included
Two white cups - one cup comes with a pre-drilled hole for the water valve to fit in, the other cup does not
One drip tube - this is the clear tube that drains the dirty water from the white catch tray to the cup with no hole
One water control valve - the black water valve controls the amount of clean water that gets dripped onto your discs
All-U-Need water kit dimensions: The bottom of the cups measure 3-1/2" diameter and the top of the cups measure 4-1/2" diameter. Cups are 3-1/2" tall.
IMPORTANT PURCHASING NOTE: This water kit is specially designed for use on Hi-Tech Diamond All-U-Need machines ONLY. This includes both the rock/mineral and glass/crystal versions of the All-U-Need lapidary machine
---