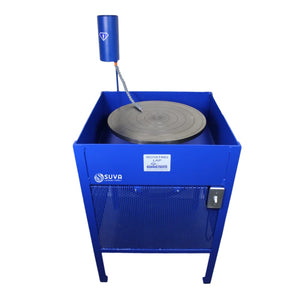 Diamond Pacific
18RL Rotating Disc Flat Lap
Regular price
$235.00
Unit price
per
📦
Special order, ships direct from manufacturer with tracking emailed to you when known.
Availability: Ships from the manufacturer with a 4-12 week typical lead time, orders are shipped first-come first-serve so your actual shipping date may vary depending on inventory and the timing of production cycles when you place your order.
Diamond Pacific's RL-series Flat Laps are rugged machines built for years of reliable service, constructed from durable cast iron lap plates attached to metal tanks.
Motors for both size machines are thermally protected, with manual reset buttons. This prevents any unintentional, unexpected restart of the motor.
Arbor shafts are 1". Bearings are 1", factory lubri-cated and sealed to prevent contamination.
Machine tanks are heavy duty, fabricated steel with powder coating. Safety screen protects the operating mechanisms below the tanks, but still allows some visibility. The 18 RL tank measures 24" x 24"x 7 3/4"deep. Overall height is 34". The 12RL tank measures 15"x 15"x 6 3/4" deep, with and overall height of 133/4"
Drip style water reservoir has an adjustable valve to regulate flow of water or water-abrasive mixtures to the rotating discs The drip spout is easily moved over the disc surface as needed.
The cast iron plates are machined to exacting tolerances and grooved with concentric V-groove circles for use and retention of abrasive charges. Magnetic Novas attach easily to the surface of the plates as well.
Our RL Model Flat laps run at speeds suitable for both the use of abrasive grits on the rotating plates, and for use of Magnetic Novas. Machines with variable speed motors are generally not needed, but are available as a SPECIAL ORDER.
1/2 HP 115V-60H, export version is 1/2 HP 220V-50H
CRATING FEE IS REQUIRED AND MUST BE ADDED TO YOUR CART WITH MACHINE
---